Midwest Horse Fair 2023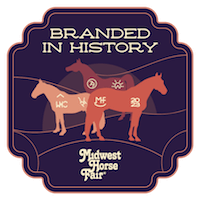 April 13, 2023 - April 16, 2023
$65.00
Out of stock
Description
When ordering mats please indicate the pavilion you will be stabled in, the group you are associated with, and your stall number. If you do not have your stall number at the time of your order we require that you follow up your order, by responding to your order confirmation, and provide a stall number by Monday, April 10th.  If we do not receive a stall number we will have to cancel and refund your stall mat rental.
Stalls will be matted on Wednesday, prior to the arrival of exhibitors. We will remove all stall mats on Sunday evening, beginning at 5:00PM.  Mats are not available for Sunday night layovers, please contact us so we can coordinate mat removal.
All stalls will be marked with a yellow tag that indicates your order number, please do not remove these tags from your stall.  We will remove them when we remove the stall mats at the end of the Horse Fair.
Please contact us at showtimestallmats@gmail.com with any questions. Have a great horse fair!